Note: This article assumes you are already an Airbnb host. If you already operate a direct booking site, that's great! You'll be able to skip a few of the steps.

This in-depth guide will walk property owners and managers through the process of listing vacation rentals on both Airbnb and Vrbo simultaneously. By listing on multiple platforms, you can increase your property's visibility, and maximize your booking potential.
In this article, we'll explore:
The benefits of listing on Airbnb and Vrbo at the same time
What you need to know about Vrbo vs Airbnb
A step-by-step guide to adding Vrbo
If you're ready to take your vacation rental business to the next level, keep reading!
Why list vacation rentals on Airbnb and Vrbo at the same time
Listing your vacation rentals on both Airbnb and Vrbo gives you access to a larger pool of potential guests. More potential guests means you'll probably get more reservations, which will lower your vacancy rate. But there are other advantages to listing on both sites besides boosting occupancy.
First, by listing on both rental property platforms, you can tap into the different user bases. While there is some overlap between Airbnb and Vrbo users, each platform has its own distinct audience.
Airbnb tends to attract a younger demographic, solo travelers, couples, groups of friends, or those looking for unique and immersive experiences. On the other hand, Vrbo attracts a slightly older demographic, including families and larger groups who are seeking spacious and family-friendly rental properties. Moira Sedgwick of A Chalet Collective properties, remarks:
"Expanding to VRBO seems to have opened our properties to new markets —
other types of folks that are new to renting vacation properties. The vast majority
has been families looking for longer vacation stays. The best part is that we
can message them directly from Hostfully."
Second, listing on multiple platforms provides you with a backup plan. In the unlikely event that one platform experiences technical issues or undergoes changes that impact your vacation rental's visibility, you still have the other platform to rely on. By diversifying your listing presence, you can mitigate the risk of relying solely on one platform for bookings and you can tap into both user groups to hone a pricing strategy.
What to know about Vrbo (compared to Airbnb)
Vrbo, which stands for Vacation Rentals by Owner, differs from Airbnb in several ways. Understanding these differences will help you navigate dual listing more effectively.
When to be the Merchant of Record on Vrbo
If you're using a PMS to manage your bookings and decide to add Vrbo, you should be sure to ask whether or not you'll be required to be the Merchant of Record. Operating as the Merchant of Records means you're responsible for handling the guest's payment and ensuring a smooth transaction. It's essential to have a reliable payment processor in place to process credit card payments securely (see below).
Being the Merchant of Record on Vrbo gives you greater control over the payment process. By directly managing the transactions, you can ensure that payments are processed promptly and accurately. This level of responsibility also allows you to provide a personalized experience for your guests, as you have direct communication and control over the financial aspect of their stay.
However, being the Merchant of Record also comes with added responsibilities. You need to keep track of payment deadlines, handle refunds, and ensure that your payment processor is compatible with Vrbo's platform (hint: below we'll see how software does that automatically). It's crucial to choose a payment processor that offers seamless integration and robust security measures to protect both you and your guests.
You'll need a payment processor for credit cards
As the Merchant of Record on Vrbo, you'll need a payment processor that can handle credit card transactions. Look for a trusted provider that offers seamless integration with Vrbo's platform to streamline your payment process and provide a hassle-free experience for guests.
The most popular options include Stripe, PayPal, VacationRentPayment.
Choosing the right payment processor is crucial for a smooth and secure transaction process. Look for a provider that has service fees you are comfortable with, reliable customer support, advanced fraud protection features, and most importantly, that is supported where you operate. Obviously, you'll have to make sure that it integrates with Vrbo.
If you're looking to grow your vacation rental business, consider the payment processor's compatibility with major property management system (PMS) providers. Even if you're not using a PMS now, you'll want the option in the future.
Not all property types are eligible (i.e. no shared spaces)
Vrbo focuses exclusively on entire home properties. Therefore, shared spaces, such as spare rooms or couches aren't eligible. If your property falls into this category, you may have to stick with Airbnb or explore rental sites that accommodate shared spaces.
This distinction is essential to understand when deciding which platform to list your property on. Vrbo's focus on whole-home rentals makes it an ideal choice for homeowners looking to rent out their entire property, whether it's a vacation home, cabin, or beachfront villa. By catering to this specific niche, Vrbo attracts travelers who prefer the privacy and comfort of having an entire home to themselves.
Vrbo vs. Airbnb cancellation policies
When listing on Vrbo, you'll need to familiarize yourself with their cancellation policies, as they differ slightly in options, refunds, and windows. Both Airbnb and Vrbo provide options to protect hosts' income and accommodate guests' changing plans, ranging from full or partial refunds depending on proximity to the booking dates. It's worth noting that Vrbo also offers a custom cancellation policy option. Understanding and clearly communicating your cancellation policy will help manage guest expectations and avoid any potential disputes.
Avoiding Vrbo and Airbnb double bookings
One of the significant challenges of listing on multiple platforms is the potential for double bookings. It's crucial to have a robust system in place to manage your calendars and prevent overlapping reservations. Failure to address double bookings promptly can lead to negative guest reviews and damage your reputation as a host.
There are three ways to implement systems that prevent double bookings:
Do it manually: Either you, an employee, or an assistant will manually adjust availabilities on Airbnb and Vrbo when a reservation comes in.
Do it through iCal: You can sync an iCal file between Airbnb and Vrbo. This will block off calendar dates when reservations come in. The only problem is that iCal files don't update in real time, and can glitch once in a while.
Do it through software: Management software has built-in channel managers that sync calendars in real-time. They also have tons of other features that help you automate your operations.
Step-by-step guide to listing on Airbnb and Vrbo at the same time
Create your account on Vrbo and go through validation
To get started, create an account on Vrbo and complete the validation process. Follow the instructions provided by Vrbo to confirm your ownership or management rights for the properties you wish to list. This step ensures the credibility of your listings and builds trust with potential guests.
Connect your payment processor on Vrbo
After validation, connect your preferred payment processor to your Vrbo account. This integration allows you to process credit card payments securely and ensures a seamless booking experience for your potential guests.

Option A: Sync your short-term rentals (if you have a PMS)
If you already use a Property Management System (PMS), such as Hostfully, locate the UID and place it into your OTA to initiate connectivity between Airbnb, the PMS, and Vrbo.

Option B: Add your properties (if you don't have a PMS)
If you don't use a PMS, you'll have to manually add your property details onto Vrbo. This process involves creating listings for each property, including detailed descriptions, high-quality photos, and accurate pricing information. It's essential to maintain consistency across platforms to avoid confusion and provide a professional image to potential guests.
If you don't have a PMS: Get Airbnb and Vrbo synced on an iCal
If you don't use a PMS and want to avoid manually adjusting calendars to prevent double bookings, consider syncing your listings using an iCal (calendar) feed. Both Airbnb and Vrbo allow you to import and export calendar data via iCal, ensuring that your availability remains up to date on both platforms. However, this method does not sync other important details, such as rates and property descriptions, so you'll need to manually update those.
Here are the steps for syncing without a PMS:
Step 1: Go to the channel you are exporting the iCal from, locate the link and copy it. This is typically housed in the calendar or availability sections.
Step 2: Then go to the channel or PMP that needs to import that iCal and paste it into the appropriate section. If it is a channel-to-channel iCal sync this will probably be in the calendar or availability section. If it is a PMS, most have a special specific section for iCals. Paste the link and hit sync/connect.
Step 3: You now need to export an iCal from the channel or PMS mentioned in step two. Copy the iCal link for each property and carry it over to the channel or PMS that needs to receive the import. Then sync/connect.
Perform Airbnb and Vrbo description and amenities quality control
Before going live with your listings, perform a thorough review of your descriptions and amenities. Make sure your property's features and characteristics are accurately represented to attract the right guests. Some of the amenities names are slightly different between Airbnb and Vrbo.
Additionally, ensure that your listings comply with both Airbnb and Vrbo's content guidelines to avoid potential penalties or removal of your listings.
It's also a good time to make sure your Instant Book preference is set in your Vrbo and Airbnb listings. If you want to vet guests before they book, then turn off this feature.
Edit your Airbnb and Vrbo automated messages
Automated messages play a vital role in guest communication. Vrbo and Airbnb hosts should customize automated messages on both sites to provide consistent and personalized responses to guest inquiries, booking confirmations, cancellation policies, and check-in instructions. Tailoring your messages to reflect your unique style and brand will enhance the guest experience and set the right expectations.
Don't forget to optimize your listings for both Airbnb and Vrbo
Optimizing your listings for both Airbnb and Vrbo is crucial to stand out among the competition and attract potential guests. Consider the following tips:
Use high-quality photos that showcase your rental property's best features.
Create compelling and accurate listing titles.
Write detailed and engaging descriptions that highlight unique selling points.
Set competitive pricing based on market demand and your vacation home's value.
Respond promptly to guest inquiries and reviews to demonstrate your commitment to excellent customer service.
List on more than just Airbnb and Vrbo with a PMS or channel manager
While Airbnb and Vrbo are popular vacation rental platforms, consider expanding your reach by listing on additional channels (like Booking.com or a direct site). A Property Management System (PMS) with a built-in channel manager allows you to streamline the listing process, manage reservations from multiple platforms in one place, and maximize your property's exposure to a broader audience. Research and choose the most suitable PMS or channel manager for your vacation rental business.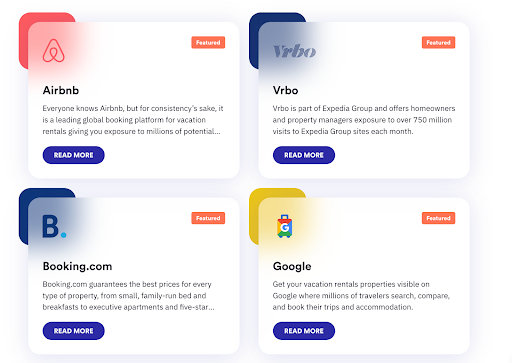 Conclusion
By following this guide, you are well on your way to successfully listing your vacation rentals simultaneously on Airbnb and Vrbo. Remember to stay organized, promptly respond to inquiries, and continually monitor your calendars to avoid double bookings. With a robust listing and pricing strategy, a clear understanding of the differences in cancellation policies, and effective optimization techniques, you'll increase your chances of attracting more guests and maximizing your rental income. Good luck!

Explore how to scale your business using multiple booking sites with Hostfully.
Frequently Asked Questions
How do I link my Vrbo listing to Airbnb?
You can't link the listings, however, you can link (and sync) the calendars through iCal or your PMS.
Can I️ be a Vrbo, HomeAway, and Airbnb host?
Many folks don't realize this, but actually, Expedia Group (which Vrbo is a part of) acquired HomeAway so now HomeAwayisVrbo.
Why do some hosts use iCals for Airbnb and Vrbo if it is less reliable than a PMS?
Depending on your team size and duties, you may need or want to use iCals, especially if tasks are split among team members. Additionally, while Hostfully allows integration, some PMSs may not.